Looking for kid-friendly activities near you? Try Splish Splash!
When the heat starts creeping up, there are plenty of ways to keep cool and get out of the hustle and bustle of daily life. Skip the normal pool and try something different this time. One location, 96 acres of pure water fun; the family is in for a treat! You'll be experiencing Long Island with kids in a way that you haven't done before. Live it up while you're on Long Island with your kids. Whether this is home or a vacation, Splish Splash is the perfect place for water fun. Take the weekend off and discover how much fun it can be at Splish Splash, where there is something for everyone in the family.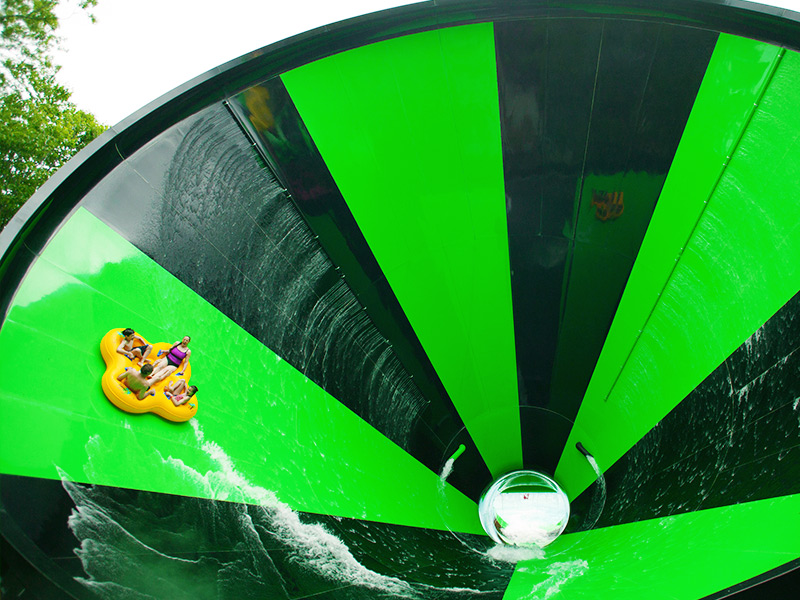 We have options that can keep the family entertained while staying cool at the same time. Thanks to the various attractions and the restaurants, it's the perfect place for an all-day excursion. Check out what we have going on! 
Reason 1: Check out our most refreshing slides and rides
Whether it is your first visit or your fifth to Splish Splash, our rides and slides never disappoint, packing a surprise for each guest no matter the thrill level they seek. Many of our guest favorites are perfect for families. Whether all the gang is in the same raft or in pairs, or if the slides are symmetrical, everyone can enjoy the park together! A few of our guest favorites for families include Alien Invasion, Hollywood Stunt Rider, Dinosaur Falls, Riptide Racer, and Mammoth River. What other way is there to keep cool and enjoy time with the kids? This is a great option for making memories together. If you're in a competitive mood, grab the family and head on over to Riptide Racer.  Thanks to this favorite carnival game that has been converted to include water, you can challenge your family to see who can get to the bottom first!  Finally, determine who is the Ultimate Riptide Racer on Long Island! 
Dinosaur Falls is among the rides for between two and four people – an expedition back in time in which, this time, the race is against the dinosaurs! Hollywood Stunt Rider is also grand: jump in this raft and experience the dark. Alien Invasion and Mammoth River are also a favorite for riders in groups. There you will find all the twists, turns, and drops that are sure to heighten your senses.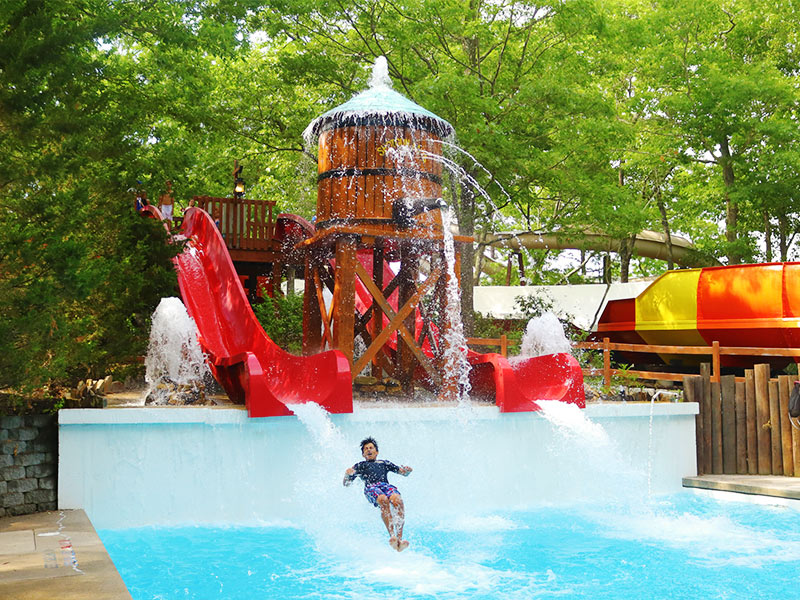 Being the only water park in the area, we have a reputation to keep up for kid-friendly activities! At Splish Splash, we want to ensure that each of our guests has the ability to enjoy refreshing rides and pools designed especially for every member of the family. Deciding to come enjoy kid-friendly activities on Long Island won't disappoint! There is something for everyone here, and everyone will leave with a fond memory of their favorite attraction. Grab your tickets online and you'll be ready for a day of fun, or buy a season pass!
Reason 2: Everyone is welcome!
There are plenty of activities going on at Splish Splash, no matter what day of the week it is. Plus, it's always easy to find a great meal or snack while enjoying your time at our park. All of our restaurants are family friendly and they serve up different selections of meals, snacks, and deserts. For our adult guests, check out a dedicated shack for beer and wine options with plenty of IPAs on tap. Join us at a few of the favorites in the park: Johnny Rockets, Snack Shack, Tony's Italian Feast, and for dessert Wafels & Dingers. Each of these restaurants focuses on a different style of food sure to please anyone or any craving that may strike. Time to rest, relax, and re-energize before hitting the waves for the next go around in the afternoon! Whatever option you choose, there is something for everyone.
Johnny Rockets is your go-to stop for all-American classics.  Burgers, cheese fries, hot dogs, chicken tenders, and french fries - how could you go wrong? Families enjoy this option because its smaller menu provides each member with a few items to choose from. While dining here, don't forget to try the Johnny Rockets original shakes in the classic flavors of chocolate, vanilla, and strawberry! The Snack Shack is full of family-friendly delights. Featuring the largest menu in the park, here you can find grilled favorites, salads, wraps, and organic and gluten-free items. Adult and kid combo meals are also available here to ensure everyone refuels before heading back to the fun. 
Tony's Italian Feast is the go-to place for pizzas, wings, and salads. Buy the slice or buy a whole pizza; you have options with plenty of possible sides. Wafels & Dinges is the home for your sweet tooth. Belgian-style waffles made with pearl sugar from beets can be topped with fruits, ice cream, fudge, and much more! You're in for a treat. Make sure to check out our deals on meals! You can prepay for lunch when purchasing your tickets and enjoy your meal later in the day with a drink. This helps eliminate the back and forth to the lockers so that you can jump right back into the water – of course, after you take a small lunch break! 

At Splish Splash, we host several events and celebrate special days like the following ones: 

Father's Day Flop calls all dads down to Splish Splash to celebrate their big day!  It's a great way to experience Long Island with kids! 
Scout Day is for Cub Scouts who can count this day at the park towards their Summertime Pack Award. 

Passholder Appreciation Days are held several times during the season.  Each day features a special promotion that is sure to make your experience even sweeter. We want to show you that we appreciate you! 
Awareness Days will vary, but in the past we have hosted Autism Awareness Day for a community that is close and special to our hearts.  
Our park strives to be an inclusive place where, no matter their condition, guests can enjoy a safe and fun environment with kid-friendly activities. 

Reason 3: Kiddie Cove – where summer fun resides
Last but not least, our littlest guests are the stars of this area! Kiddie Cove is home to three attractions designed for the littlest members of your family. Splish Splash strives to make the park inclusive for everyone while giving parents the chance to relax as their children enjoy a safe place to play.   

Are you introducing the youngest family member to water or helping them learn to be comfortable but safe? Kiddie Cove is the perfect place on Long Island for kids. It offers shallow wading pools and an opportunity for them to experiment while you are closely at hand. There are a lot of ways to experience the water here, whether your kids just want to splash about or whether they'd like to be more interactive. Explore the activities here – they're a great fit for all! 

Your little explorer will love navigating under the sea in the Yellow Submarine. In the middle of a shallow wading pool and under the shade of palm trees, there is plenty to explore. Children will love climbing into the submarine, looking through the windows, and going down the small slide. Onlookers can wave at the crewmates before they leave on their underwater adventure! Argh, Matey! Come on over and join the crew at Pirates Cove. This interactive pirate ship has water cannons, climbing ropes, and slides. Climb on board, hit the waves, and explore the seven seas! This pit stop will keep the kids entertained for ages while you're close by to supervise, with plenty of seating around the area. Nearby, children will be thrilled to see swings hanging from the tentacles of a ginormous but happy octopus at the Octopus Pool. With plenty of room for everyone to get a swing, our smaller guests will really love them. It's easy for everyone to take a break and cool off while parents wade in the pool with their little ones. 

This is definitely one of the best things to do with kids this weekend! Once your child experiences the fun at Splish Splash, they might want to enjoy the experience with a few of their closest friends. We offer a birthday party package with all the bells and whistles and minimum planning for you. For as few as 10 guests and as many as 25, everyone will enjoy all-day admission to the park.  Each group gets their choice of a party time and reserved seating for one hour. A party hostess will set up and serve you a lunch of pizza, drinks, and we also provide the birthday cake.  This may be the easiest birthday you've ever had to plan! You'll get to kick back, relax, and enjoy the day with your special guest! It's a great idea to host a party on Long Island with kids! As we are one of the largest water parks in the United States and the only one in the area, everyone will be sure to enjoy their time at Splish Splash. We offer a fun, alternative option for your pool day with kids on weekends while also beating the summer heat!  Our goal is to help you enjoy your weekend with your family thanks to all the attractions, events, and restaurants we have to offer. We are looking forward to meeting you and know that you'll enjoy your summer with us on Long Island with kids!